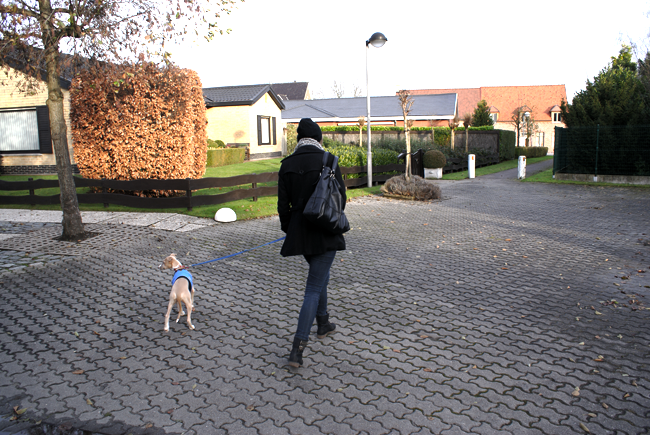 Finally it stopped raining! I've been trying to take pictures all week but it rained every day, while in the rest of the country it was snowing beautiful white snow. Hopefully It'll snow tonight.

As you can see, I'm walking a dog. Bit strange since I've alway been more of a cat person.
But my boyfriend is a dog person and he got a dog last weekend and of course it needs walking.
Since taking decent pictures and holding a dog that runs from one side of the street to the other isn't that easy, I'm walking the dog while the boyfriend takes pictures.
His name is Lucky and you will probably see more of him on here every once in a while.

Even though it hasn't snowed yet, it has been really cold.
I'm wearing what could probably be called my uniform for winter: A beanie, knitted scarf, sweater, boots and my coat.
I know I wore these boots in the last outfit as well, but really I hardly wear any other shoes.
They are so comfy and warm and they go with almost everything.