1⎪2⎪3⎪4
I've already made a post about my wardrobe essentials a few years back, but my style has changed quit a bit since then. And with that my essentials have changed a bit as well. I may make an extra post with accessories, jewelry and bags, if I remember it. These essentials are more for winter and the type of weather that we are having now, then for summer.

If you've been following me for a while, you know my got-to outfit is jeans. So obviously the first item in my essentials has to be jeans. I prefer my jeans to be high waisted and obviously a light wash, though a black jeans is a must as well.
Jeans are just such a staple that go with so many things, go for a style that you like and that suits you.
For my jeans I like to go for a boyfriend cut, or a classic skinny.



1⎪2⎪3
Next to jeans, skirts are also a must, just as jeans they go with so much, and they are great if you want to be a bit more dressed up. My got-to skirts are skater skirts and pencil skirts, both midi length and a shorter version.



1⎪2⎪3
If I don't feel like putting any effort in my outfit, a dress is what I grab, if it's cold I just put on a pay of tights and throw on a jumper over it and I'm done. body con dresses and skater dresses are my must-haves. They are super easy to dress up or down and they go for almost every occasion.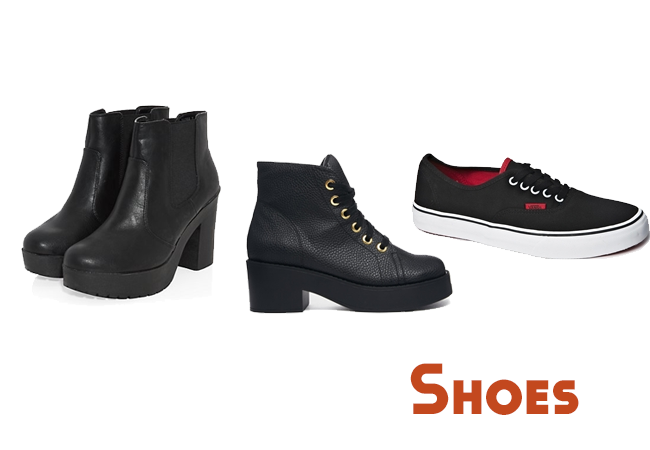 1⎪2⎪3
My go-to shoes for winter have to be boots. I'm sure you've all noticed my love for stumpy boots. I would go for a pair of chelsea boots and some lace-up boots. Next to boots I would say a pair of sneakers are great for the more warmer and drier days.



1⎪2⎪3
Of course we need something to wear with our jeans or skirts. Now I could have shown you guys a dozen of shirts and jumpers that I would love. But if I could only pick three, I would go for a boyfriend fit type of shirt, a striped top and a baseball shirt. These three are all black and white, since I do like black a lot, but of course I would pick these in all different colors as well.